Natasha's Law
Published

28th Apr 21

Categories

Blog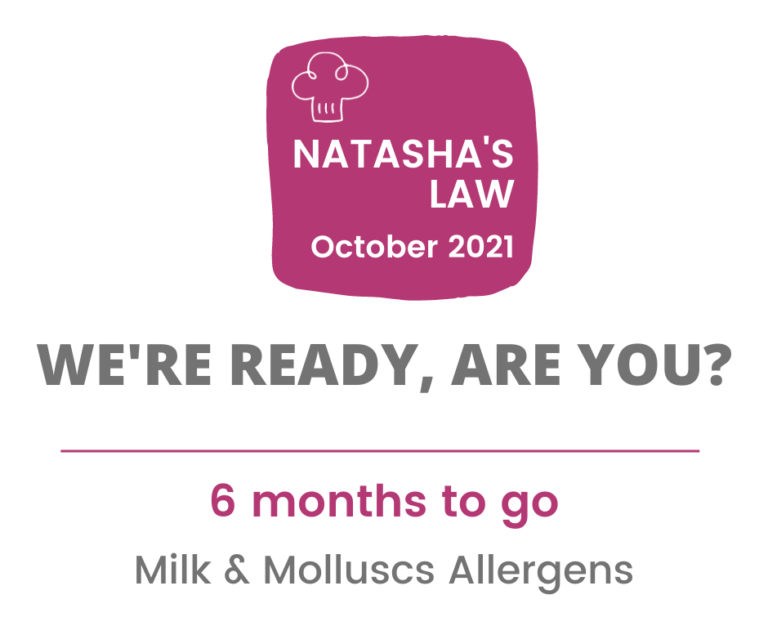 New Food Labelling Requirements
The new allergen labelling rules, which are now enshrined in legislation in England, Wales and Northern Ireland, will come into effect from 1 October 2021. The new allergen labelling requirements will apply to a category of food called pre-packed for direct sale.
What should your label look like?
Mandatory particulars – meaning information that must be provided.
The label needs to show the name of the food and the ingredients list, with the 14 allergens required to be declared by law emphasised within it. These need to be in line with the legal requirements that apply to naming the food and listing ingredients.
You must have a full list of ingredients, from all products, in weight order on your packaging.
Mandatory information must be easily accessible, in a conspicuous place, easily visible and clearly legible. Information must be indelible (where it needs to withstand handling/heat). The information must not be hidden, obscured, detracted from or interrupted by other written or pictorial matter or any other intervening material.
Any voluntary food information must comply with the requirements and must not mislead the consumer, must not be ambiguous or confusing, and where appropriate be based upon scientific data. The use of precautionary allergen labelling when there is not a real risk, could be considered to be misleading food information.
Font sizing – In the example shown the height to measure is legend 6 – only the body of text not including capitals. So x-heigh on a 80cm2 label should be no smaller than 1.2mm.

Mandatory information about the presence of ingredients which cause allergies will need to be emphasised from the other ingredients within the ingredients lists by means of contrasting font, size, style or background colour. For example: 'INGREDIENTS: Oatmeal, sunflower oil, prawn (crustacean)'
The source of allergens for each ingredient needs to be declared even if there are several ingredients from the same allergenic food.
Where an ingredients list is provided, the FIC does not permit the voluntary use of allergen advisory statements such as 'Contains: wheat, egg and milk' to repeat mandatory allergen ingredients information. Information about allergens as ingredients can only be presented in the mandatory format (i.e. emphasised within the ingredients list). This is to ensure that information is presented in a single and consistent format across food products.
There will need to be an allergy advice statement.
Your responsibility within law
Food businesses already have an obligation to ensure that accurate ingredient and allergen information is passed to the consumer.
Food businesses should also ensure that they have a process in place to update this information should suppliers/ingredients change.
Food businesses need to proactively plan for any incidents such as malfunctions.
Spotlight on allergens:
Milk
Cows' milk allergy affects around 3-6% of infants and young children who usually start to have symptoms in their first few months. This causes many health problems and is frequently not diagnosed, or takes many months to be diagnosed.
Most children outgrow milk allergy by five years of age so true milk allergy in older children and adults is extremely uncommon, it is more likely to be lactose intolerance.
Cow's milk may be present in foods such as:

milk, milk powder, milk drinks, all types of cheese, butter, margarine, yoghurt, cream and ice cream.
Food labels that list any of the following ingredients also contain some cow's milk or product in them:
casein, caseinates, hydrolysed casein, skimmed milk, skimmed milk powder, milk solids, non-fat milk, whey, whey syrup sweetener, milk sugar solids, lactose.
Processed foods that may contain milk:
breakfast cereals, soups, baby foods, processed meats, pasta & pizza, instant mashed potato, sauces & gravy, baked goods e.g. rolls, pancakes & batters, ready made meals, puddings & custards, cakes, biscuits & crackers, chocolate & confectionery and crisps.
Lactose intolerance
This is not an allergic condition but an inability to digest lactose (milk sugar) because the body produces low levels of lactase, the enzyme responsible for digesting lactose. It can affect both children and adults, with the common symptoms being diarrhoea, bloating and discomfort.
Lactose is present in cow's milk, goat's milk and sheep's milk in similar quantities. For some people there is a dose related response, that means that you may be able to tolerate milk in tea but a glass of milk would cause symptoms.
Some ideas for substituting milk in recipes:
Substituting for Butter
One of the easiest substitutions to make is for butter: simply use a dairy-free margarine instead, a good margarine can make a big difference in many recipes. For baked goods, use Phase Dawn Margarine which is suitable for lactose free diets, is gluten free and vegan. For spreading margarines use Flora which is dairy-free, gluten free and vegan. Brakes Sunflower Spread contains non of the 14 allergens.
Substituting for Yoghurt
Alpro dairy free soya yoghurts are available from Brakes, Blakemore and Creed.
Substituting for Cheese
Dairy-free cheeses are a bit of a challenge. Soy cheeses do not taste or melt like traditional dairy cheeses. In some cases, soy cheese will not appear melted, but will in fact be melted inside. There are now milk-free and soy-free (Violife) cheeses available from several suppliers. They are available in shreds, blocks and slices. These milk-free and soy-free cheeses also melt much better than milk-free cheeses of the past.

Milk-free cheese may not work well in recipes for cheese sauces.
Substituting for Milk
There are a number of commercially produced cow's milk alternatives made from soy, coconut, rice, potato and oat. It is not recommended to use any alternative milk products that contain almond, hazelnut or cashew due to the presence of nuts.

Note: Goat's milk is not considered a safe alternative for those allergic to cow's milk.
Molluscs
Molluscs include seafoods such as clams, mussels, octopus and scallops as well as terrestrial snails. There is a clear biological difference between molluscs and crustacea but some limited cross-reactivity has been reported. Therefore prawn allergic individuals are more likely to react to molluscs than to an unrelated allergen such as a plant food.
Molluscs are invertebrates (they have no backbone), they are soft bodied inside and some have a shell. Those that have a shell that opens and closes are called 'bivalve molluscs', such as mussels or scallops.
Examples:
abalone, clams (quahogs), cockles, limpets, mussels, octopus, oysters, scallops, snails (escargot: both sea & land snails), squid (calamari), surimi (imitation shellfish, often found in sushi) and whelks.
Be on the lookout for these dishes and ingredients – it may not always be obvious!
Bouillabaisse (a French fish soup)
Ceviche (fish or shellfish in an acidic citrus marinade)
Cioppino (fish stew)
Crevette (the French term for shrimp)
Scampi (contains lobster or shrimp)
Gumbo (fish and shellfish stew)
Paella (Spanish rice dish usually made with shrimp)
Jambalaya (Cajun rice dish often made with shrimp or crawfish)
Nam prik (Thai fish sauce)
Mam tom (Vietnamese fish sauce)
Coming up next month…
We look at the Catering Manager's responsibility and labelling systems.
In our 'Spotlight on Allergens' feature we will focus on the allergens Nuts and Soya, the foods that are most likely to contain them and the possible alternatives available.
If you are concerned what Natasha's Law means for you – exactly what information your food labelling should now include along with the costs, logistics and man hours of updating allergen information on packs, then look out for our monthly blog.
Need help with your allergen compliance?
CMC can give you advice and support on all aspects of your food safety in school.
Contact us today to see how we can help you.
01254 351887
enquiries@cmcschoolfood.co.uk
All resources