Natasha's Law
Published

28th Jun 21

Categories

Blog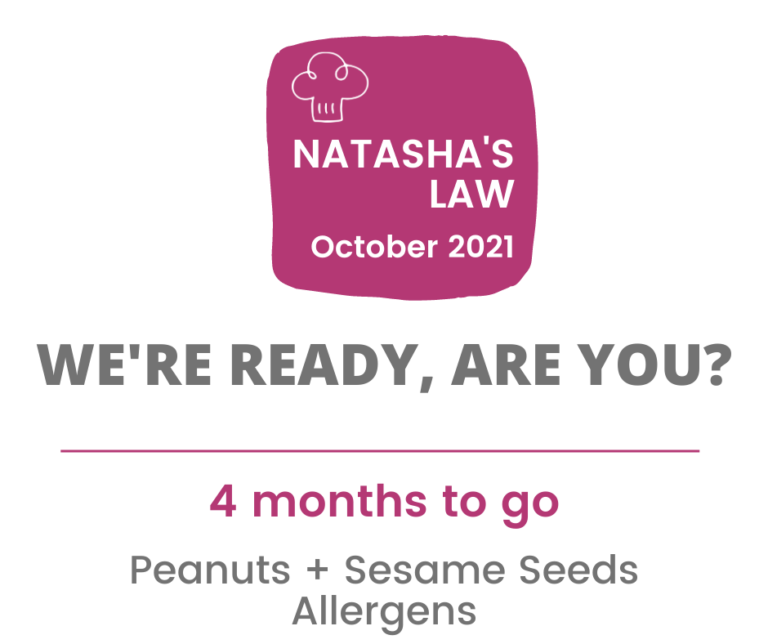 New Food Labelling Requirements
Around two million people are thought to live with food allergies in the UK with the consequences of allergic reaction and anaphylaxis potentially serious or even deadly – as was the case with Natasha Ednan-Laperouse. This tragic incident demonstrates just how important clear food labelling can be. Unfortunately, incidences of misunderstanding, miscommunication and assumptions can have serious and fatal consequences for allergy sufferers.  
We know that as a school or academy kitchen it's likely that you're still trying to recover following lockdown. Even so, it's important to prepare for the upcoming change. Customers who suffer allergies and have bought food from you without problems should have the confidence to come back.
Here's what you should be doing to stay on top of compliance…
You only have until October 2021 to arrange how you are going to label all products with a full ingredients list. It is recommended that you try and do so as soon as possible, CMC recommend that this is in place before the end of term in July.
Ensure your staff have up to date allergen awareness training and understand the importance of taking allergens seriously. So far, over 660 catering staff have completed CMC's Allergen (modules 1 & 2) training and over 440 have completed Natasha's Law (modules 1 & 2) training.
The consequences of mislabelling food can be as severe as death by anaphylaxis, as was the case for Natasha. Staff must understand why having an awareness of allergens is necessary and what they must do to keep consumers safe. This includes knowing where to find the correct, up-to-date ingredients list of products and to share this information with customers when requested.
Have a system in place for quickly responding to ingredient changes on labels. As soon as a recipe changes, you need to alter the labelling process to match this. For example, if a recipe changes to contain an allergen, you need to update the ingredients label as soon as the product goes on sale. You should also make it clear that the recipe has changed, such as in writing on the product label. Some customers may have previously checked the ingredients and bought the product, so may not check the ingredients again.
Keep your staff informed about non-prepacked foods. If you change the ingredients in a recipe, you must inform staff of this as soon as it happens. This updated information should be stored somewhere that all colleagues have easy access to. If a customer then has a query, they can easily refer to the product information. DO NOT leave updating important allergen information until the end of the day/service.
Good allergen management is about knowing what is in food and controlling the movement of allergens to reduce or remove allergen cross-contamination.
The perils of precautionary labelling…
When it comes to labelling food with allergens, one of the biggest concerns for the manufacturing industry is the potential for cross-contamination.Therefore, it's tempting for them to attempt to minimise any risk by using blanket 'may contain' statements.
However, this would not only reduce choice for people with a food hypersensitivity, but could also be dangerous because precautionary allergen labelling (for some) lacks credibility, and so it is often ignored.
As caterers we have all seen examples on the labels of products that we believe must be very low risk – for example, 'nut traces' warnings have even been seen on the labels of bottled water.
The Anaphylaxis Campaign advises that food and drink suppliers and retailers should only use precautionary allergen labelling "after a thorough risk assessment and when the cross-contamination risk cannot easily be eliminated".
CMC believes that precautionary labelling should be identified within ingredients lists, as the advice followed by most parents of allergic children is to take no risks and to stick with products which are made in an allergy-free environment. This is absolutely right and sensible, and should be adhered to.
So always take note that the voluntary use of precautionary allergen labelling such as 'may contain' or 'not suitable for…', is used to communicate the risk of the unintentional presence of an allergen.

Spotlight on allergens
Peanuts
Peanut allergy affects around 2% (1 in 50) of children in the UK and has been increasing in recent decades. It usually develops in early childhood but, occasionally, can appear in later life. Peanut allergy tends to be persistent and only approximately 1 in 5 children outgrow their allergy, usually by the age of 5.
A peanut allergy does not automatically mean an allergy to tree nuts although it is not uncommon to be allergic to both peanuts and some tree nuts. An allergy to peanuts does though increase the likelihood of an allergy to sesame and lupin.
Living with a peanut allergy
As there is currently no cure for peanut allergy, the complete avoidance of peanuts and foods which contain peanuts is important. Peanuts are widely used in a variety of foods and are a common ingredient in different types of cooking – like Asian and Indian cuisine. They can also be found in foods like muesli and cereals and cereal bars.
It is important to carefully check the ingredients list on food items (specifically those produced outside of the EU as they are not required to include peanut as a highlighted food allergen).
Some foods which contain peanut could be listed under any of the following names:
Arachis hypogaea

Beer nuts

Cacahuete

Chinese nuts

Earthnuts

Groundnuts

Goober nut/pea

Madelonas

Monkey nut

Peanut
Misleading nut-named foods:
Despite having the word 'nut' in their name, the following foods are not nuts, as they are not from the tree nut or peanut botanical families, so do not need to be avoided if someone has a peanut/tree nut allergy.
Chestnut – is an edible product of a group of trees in the beech family

Coconut – the fruit (seed) of a coconut palm tree

Water chestnut – aquatic vegetable

Nutmeg – seed of the nutmeg tree

Butternut Squash – technically a fruit

Pine nut – the edible seeds of pine trees
Sesame seeds
The most common type of allergy to seed is due to sesame. Sesame seed allergy is not new (it was first reported in the 1950s), but it has become increasingly common and now is one of the top 10 causes of food allergies. Increasing consumption of sesame might explain why more and more children in the UK are developing this once rare allergy.
What foods should a person allergic to sesame avoid?
Sesame
(Sesamum indicum), is also known as Benne, Gingelly, Til or Teel, Simsim and Ajonjoli on foreign products.
Sesame Seeds are extremely potent allergens capable of causing severe allergic reactions (anaphylaxis) in susceptible individuals. Sesame is becoming more common in the diet today and is used extensively in everyday foods, especially on bread and other bakery products. Products that are not intended to contain sesame may have traces of the allergen due to manufacturing or marketing practices.
Hummus, Tahini, Halvah
Hummus, Tahini and Halvah are three very popular sesame products, which are sometimes added to other foods. Other common sources of sesame include: bakery product biscuits, crackers, breadsticks, rice cakes, bagels, pies and muesli.
Some pre-packed delicatessen and processed foods contain sesame, for example: noodles, dips, soups, sausages, samosas, processed meats, veggie burgers, chutneys, salad dressings, mixed spices, spreads and confectionery bars.
Sesame Oil
Unlike other oils such as peanut oil, which is usually refined to the point where there is little or no allergenic protein left, sesame oil is made by cold-pressing sesame seeds and is not refined, so retains most of its allergenicity (capacity of a food to cause an allergy). It is used 'unrefined' in food products and as a result it contains sesame allergens which can cause reactions to those allergic to sesame seed. It resists rancidity and is extremely popular with Oriental Chefs.
Sesame oil (sesamum indicum) is also used in pharmaceutical products and cosmetics. Some allergy tested cosmetics contain sesame. Although refined sesame oil is used in these products, hypersensitive reactions (urticaria) have been reported.
Coming up next month…
Know the Law – who, what, when.
In our 'Spotlight on Allergens' feature we will focus on the allergens Crustaceans and Sulphur dioxide, and the foods that are most likely to contain them.
If you are concerned what Natasha's Law means for you – exactly what information your food labelling should now include along with the costs, logistics and man hours of updating allergen information on packs, then look out for our monthly blog.
Need help with your allergen compliance?
CMC can give you advice and support on all aspects of your food safety in school.
Contact us today to see how we can help you.
01254 351887
enquiries@cmcschoolfood.co.uk
All resources