Encouraging the next generation of chefs at St. Gabriel's High School Bury
Published

22nd May 23

Categories

Blog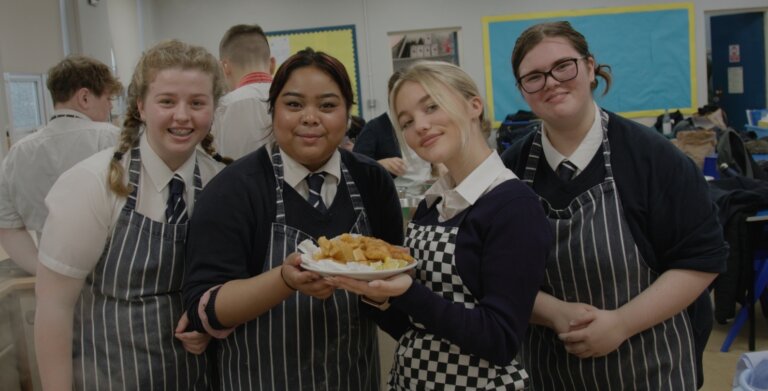 As school catering consultants with backgrounds as chefs, being able to encourage the next generation of chefs and caterers is the most rewarding area of our work, especially at a time when the industry is experiencing recruitment shortages. A recent opportunity saw us accompanying students from St. Gabriel's RC High School in Bury, to visit the local, award-winning Bury Market, to buy fresh produce and then create dishes from their purchases back in school.
The St Gabriel's KS4 students are studying GCSE Food Preparation and Nutrition which encompasses food choice and provenance as part of the curriculum, as well as a practical cooking assessment. With Bury Market just a 10 minute walk away, it was the obvious choice to make their purchases. The market dates back over 500 years with both indoor and outdoor stalls selling everything from fresh fish to mobile phones. Bury Market prides itself on sourcing local produce from around the North West of England – Albert Matthews Butchers, who have been trading in the town since 1935, boasts that its meat "is from traditional breeds reared on the Cumbrian Fells, Lancashire and Cheshire".
Our Founder Gary Stewart, is a regular visitor to Bury Market and thought it invaluable that the students would be able to chat with stall holders and learn about the provenance of the food they were buying. "Bury's one of my favourite markets" says Gary, "and I feel lucky to live close to somewhere that's such a jewel for food." With CMC's mission to reduce our carbon footprint, the fact that many stall holders source their produce locally is also a positive aspect of purchasing from the market as is the fact that most produce is wrapped in paper and not plastic, so biodegradable and no need for recycling.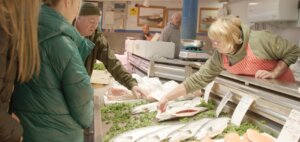 To encourage the students to think about creating a menu offer from a wide range of food, Gary and Tom, CMC Catering Consultant at St. Gabriel's, started the day by taking the students for breakfast at Katsouris Deli on the indoor market. Katsouris has been trading for over 40 years in Bury, and has a heritage of family roots in Cyprus, Poland and Italy which is reflected in its menu offer.   
The students were tasked to form small groups to work together to choose what produce to buy with Gary asking them to focus on sourcing fresh fish and meat to create their menu offer. The stall holders offered advice of what to look for when buying fresh produce, such as clear eyes on fresh fish and students were encouraged to barter if buying more than one item. "Creating great food is as much about good procurement" says Gary, ""buying the best quality product at the right price."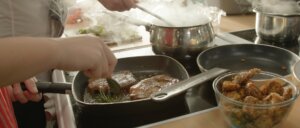 Back in school, the students were asked to produce a mains dish of either fish or meat but most students went beyond the remit and created tasty side dishes, such as flatbreads and celeriac and sweet potato puree to accompany their main dish. When the students discussed their menu offers Gary thought they were attempting to create too many dishes and wouldn't be able to complete them all in time be he was amazed at what they achieved. Both Gary and Tom were extremely impressed by the students, "they executed it superbly and I was amazed at their skills and the food they produced" says Tom.
Fish dishes ranged from fresh squid served with a rhubarb and lime relish and romanesco cauliflower soaked in lemon and pomegranate juice to loin of cod with a medley of puy lentils, broccoli and tomatoes. The students also baked their own bread from scratch and executed the presentation of their dishes expertly.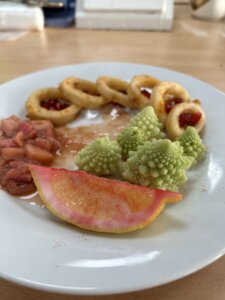 "I came away from St. Gabriel's really encouraged by what I'd witnessed today" says Gary "at a time when the hospitality industry is crying out for new recruits, if we can inspire young people to be so enthusiastic about food then we've achieved."
"We had a great day at the market, despite regularly being within walking distance, it's a place our students have rarely visited. They had the opportunity to talk to vendors first hand before using seasonal local produce under Gary's guidance. It was a brilliant enrichment opportunity and both staff and students had a great day. The students still talk about it now, weeks after the day."
Beauty Bennett, Teacher of Food and Nutrition
All resources