First steps to a greener CMC
Published

11th Aug 21

Categories

Green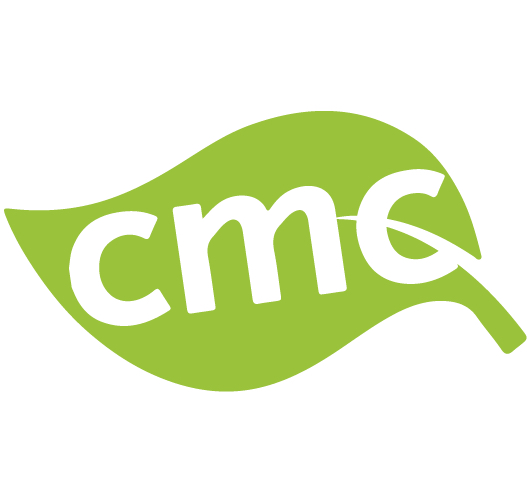 Seeds of change
Often it takes something earth shattering to make you take action. I'm sure we weren't the only company who found coronavirus a catalyst for change. Suddenly, the world had gone from 24/7, fast food and the gym to staying at home, baking banana bread and taking a daily family walk.
We all witnessed the images of wildlife claiming back their territories and the canals of Venice clear for the first time in years. Less vehicles on the road, less planes in the sky, it was almost as if the pandemic had been sent as a warning, showing us how we could help to slow climate change.
It certainly made us stop and think. We're a small company of 12 and pre pandemic at least 9 of us would spend most of the day on the road. Driving diesel cars that at one time the government had told us were better than petrol. With the company cars sat on the drive our CO2 certificate, that comes with the fuel bill, suddenly plummeted! From 885 Total Direct Greenhouse gases from diesel in February 2020 to 279 in May.

Changing our delivery

At the same time we had to rethink how we delivered our services. We wanted to support our client schools as many of them remained open during lockdown, but we couldn't physically visit them. So, like a vast proportion of the planet we took to Zoom to carry out meetings and audits and general catch ups with clients.
We also moved our training online. Getting a free day with catering staff to deliver training is always difficult, now many of them had time on their hands either furloughed at home or working over two shifts, which gave them more free time. If we could take our training online we could continue to carry out training and help the schools as they wouldn't need to pay staff for an extra training day when they returned to normal.
A greener outlook
It also made us consider our ethos – as a school catering consultancy who advocate healthy eating and home cooking with fresh produce surely we should be helping to look after the planet that provides for us. We've been a generation of plenty – 2 for 1, buy 1 get 1 free – CMC would like to think that the future generations we're helping to feed won't be short of food in the years to come.
So we decided that 2021 would be the year that CMC became a little bit greener. We decided to assess how we conduct our business and what aspects of it we can change to help reduce our carbon footprint. And we've decided to record our journey in the hope that it can help other small businesses to change their working habitats for a greener future.
So what can we do?
None of us are eco warriors or have a great understanding of what it takes for a company to be greener, but together we discussed how we thought we could improve our working practices. We broke the business down into three areas that we thought we should address;
transport – fleet cars, fuel, driving skills, reducing journeys
food – food waste, food purchasing, reducing carbon footprint of menus
energy – printers & printing, switch-off policy
Then we realised we could further divide this down to:
But where to start!
We knew the easy bits – changing from diesel cars to hybrid or electric, we could do that, but areas that crossed over between ourselves, our clients and our suppliers that just seemed less straight forward.
So we decided that we had to start with ourselves, CMC, and that we needed help to point us in the right direction. That's where the Chamber Low Carbon stepped in and put us on the right road.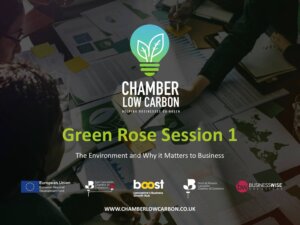 Chamber Low Carbon
We were fortunate to see an email from the East Lancashire Chamber of Commerce advertising Chamber Low Carbon and their Green Rose Programme – 6 sessions offering free advice and support for businesses looking to implement an environmental management system; maybe we could achieve the ISO 14001!! So we signed up and we haven't looked back.
The sessions cover all the areas we need to address in order to create an environmental management system for our company to work to. So far we've got to session 3, and some of it's quite heavy but the Team at Chamber Low Carbon try to make everything as easy as possible for you to follow. We've just had our carbon footprint assessed and waiting to hear the result. Watch this space!
Fleet cars
We've also got some new cars on the road too. We know that our cars and fuel consumption are our biggest carbon footprint, so since our initial decision to go greener in 2020 we've upgraded 80% of our company cars. We've exchanged 6 diesel cars for hybrid vehicles and our biggest achievement is to purchase our first, fully electric car. Not bad for a little company in under a year! Well, we think so.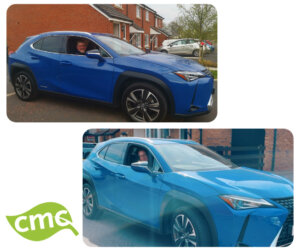 All resources