Is it time to review your in-house catering service?
Published

17th May 22

Categories

Blog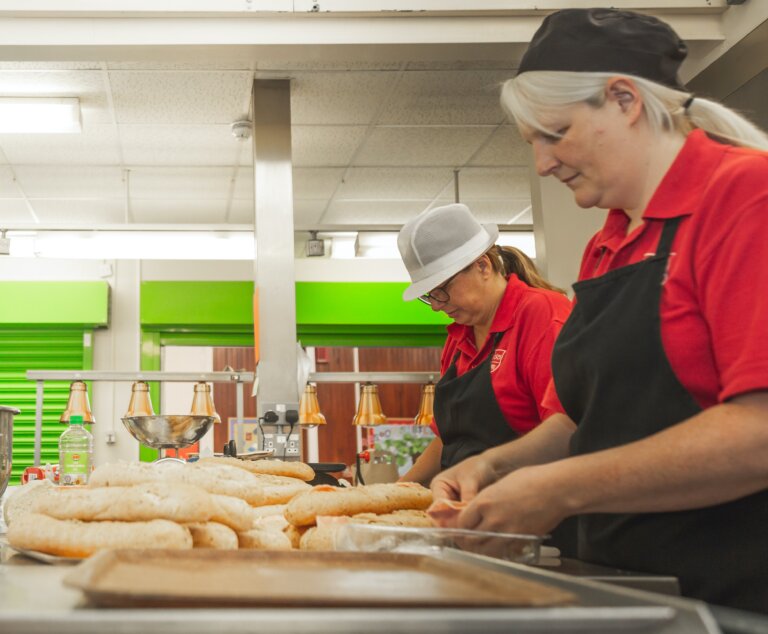 Knowing what's wrong with your catering service and how to make improvements can prove difficult without expert knowledge. That's why an external catering service audit from qualified caterers can prove invaluable.
Often, when schools and academies take their catering in house alone without management support, the service operates well to begin with. Over time however, with changes in food safety legislation and staff training and developments within the catering industry things can start to falter and meal numbers dwindle.
This is a common scenario for many educational establishments who take their catering in house without management support. As a member of the senior leadership team you may have been tasked  with managing the catering service but have no catering experience. You know it's not performing as it should but you lack the knowledge to know exactly what's wrong or the expertise to make improvements.
A catering service review can not only help you to identify the problem areas but also highlight the positive practices and empower you to make changes.
What do CMC service reviews cover?
At CMC our review can be tailored to focus on your school or academies' needs.
A full service audit would cover the following areas:
Staff competencies and training needs
Service efficiency, delivery & presentation
Budgeting & purchasing
Service Facilities & Equipment
What's involved
Our school catering reviews take a snapshot of the working day of your school or academies' catering service, from the staff entering the kitchen for breakfast prep to switching the lights off after the kitchen's cleaned down – only by seeing a service from start to finish can you assess how efficient it is.
We try to obtain as much background information from you before we start, as this not only gives us an idea of how your service operates but also means we make less demands on you on the day of the audit. Menus, staffing, purchase invoices and number of meals served can all help us to form an initial idea of how the service should be operating.
Initially we discuss with you, the client, your areas of most concern, the things that you feel aren't performing how they should. When assessing these concerns we consider all 6 aspects of the audit in order to give you the most informed feedback, to show why these things are happening and what needs to be improved and the best way to do this for your school or academy. All our consultants have worked in busy commercial kitchens, so understand not only the constraints of the workplace but also the possibilities.
Service observation
With your concerns in mind, our consultant observes the catering service from the prepping of food and deployment of staff to the delivery out to service points and presentation to pupils. Whilst they'll pay particular attention to efficiency and safety, they'll also consider the pupils' food experience – does this food look and taste good, is it what I want and am I happy to eat here?
They won't just look at what's happening at the front of house, they'll also take a look at the store room and how deliveries and orders are dealt with too, capturing everything to give you a comprehensive evaluation of your school's catering service.
All we ask is that you inform all your catering staff beforehand that we will be visiting to do the review and what they should expect. We believe that informed staff are more responsive on the day and enable a true reflection of the service.
Feedback, evaluation and recommendations
The bit that's important to you!
On the day of the catering audit our Consultant will give you an overview of how the review went and inform you of any observations that they felt could pose a safety issue and need immediate attention.
We then consider our findings and score some against our audit template – legal compliance, staff training, health and safety – and evaluate other areas based on our knowledge and experience of the industry norms.
As the client, you will receive a copy of the audit document from the review day and a Catering report, which interprets our findings and addresses your concerns, with recommendations for improvement and how these changes can be brought into effect.
Over the years many schools and academies with in-house catering services have found our school catering reviews invaluable tools to keep them on the right track, working safely and ensuring they are legally compliant whilst also keeping in touch with industry innovation in school meal catering. Indeed many of these clients have gone on to employ our services on a regular basis from termly auditing to staff training and menu advice and some to full management support.
"Having CMC undertake an independent review of our catering service was so beneficial.  Provision of our catering service had been undertaken in the same way for some time having been inherited from the local authority and needed an injection of modernisation. We worked with their consultant who challenged our practices and ways of doing things coming up with new ideas whilst always listening to the needs of our schools. They were also able to support us in navigating our way through new laws such as Natasha's law, so that we had assurance and confidence that our practices were in line with legal requirements."
Gill Bradley
Trust Head of Finance, Business and operational organisation
The Shropshire Gateway Educational Trust
Want to know about how we can support you with your in-house catering service? Give us a call on 01254 351887 or drop us a line enquiries@cmcschoolfood.co.uk we're always here to help.
All resources