Natasha's Law
Published

12th Jan 21

Categories

Blog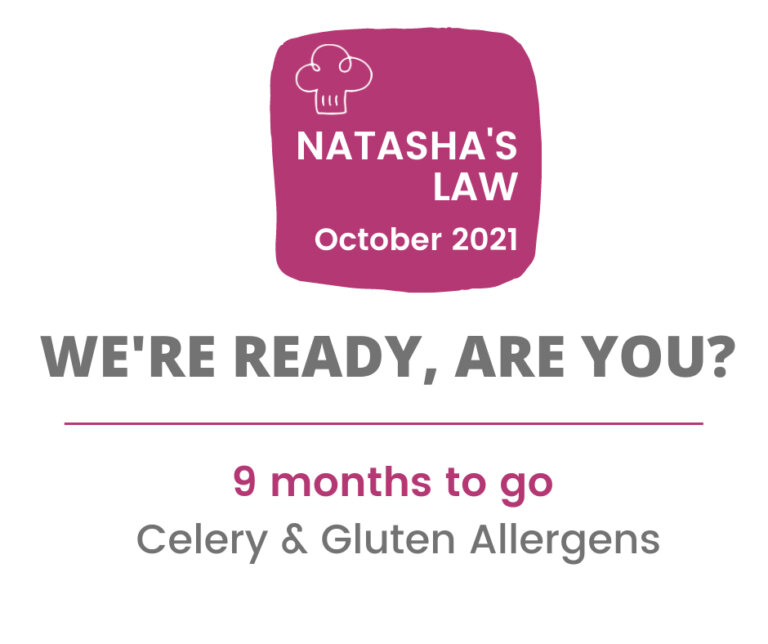 Food Allergen labelling Changes
The UK has some of the highest prevalence rates of allergic conditions in the world, with over 20% of the population affected by one or more allergic disorder. (M. L. Levy, 2004). Following the death of teenager Natasha Ednan-Laperouse, as a result of an allergic reaction to a baguette she had eaten, which did not display all the allergen information on the packaging, the government announced that new food labelling legislation – Natasha's Law – will come into full effect by October 2021 to help better safeguard food allergy sufferers.
The new legislation will be cited as the Food Information (Amended) (England) Regulations 2019, and will require food businesses to provide full ingredient lists and allergen labelling on foods prepackaged for direct sale on the premises. The legislation is being introduced to protect allergy sufferers and give them confidence in the food they buy.
Over the next 7 months we will be reporting on what the changes mean for food businesses. Each month we will look at an aspect of the legislation and discuss how you can meet the requirements in your kitchens. We will also feature a 'Spotlight on Allergens' when we will take an in depth look at 2 of the 14 allergens and the foods used in schools that are most likely to contain them.
Spotlight on Allergens
Gluten
The term "gluten" is the general name that collectively refers to the storage protein fractions found in wheat and other related cereal grains, which are insoluble in water.
It is estimated that gluten constitutes around 80% of the total protein in most cereals. Most people with intolerance to gluten can include oats in their diet without adverse effect on their health; however due to ongoing research and the contamination risk from other cereals containing gluten, oats are deemed cereals containing gluten within law. Additionally, certain proteins (including non-gluten proteins) found in cereal grains may also trigger allergic responses.
For the purposes of labelling pre-packed foods within the Food Information Regulation (EU) No. 1169/2011 (as amended) defines the cereals containing gluten as:
"wheat, rye, barley, oats or their hybridised strains, and products thereof"
Wheat is an ingredient in a wide range of foods. Reactions to wheat can vary and may be due to:
Immediate allergy

Delayed allergy

Autoimmune response to gluten proteins causing Coeliac Disease

Fermentation in the gut due to fructans (carbohydrates) in wheat

Gluten sensitivity
Some people also react to other grains such as rye and barley which contain similar proteins to wheat.
Food labelling legislation states, wheat (and also rye, barley and oats along with other allergens) must be labelled on any packaged and manufactured foods. Foods sold loose (e.g. from a bakery, delicatessen butcher or café) and foods packed for direct sale (e.g. sandwich bars, market stall, some catering products) must also be clearly labelled.
Foods likely to contain wheat:

Breads – wheat bread, pittas, chapattis, croissants, crumpets, muffins, naans, wraps, bagels etc.
Cereals – wheat based cereals and cereal bars
Pasta, pizza, noodles, potato – fresh, dried or tinned pasta, dough balls, waffles, some frozen chips
Grains, flours & flakes – bulgar wheat, cous cous, durum wheat,

freekeh, einkorn,

emmer, farola,  kamut, malted wheat, semolina, spelt, triticale, whole wheat, wheat bran, wheat germ
Meat/fish/pulses/eggs/nuts –  breaded for battered fish/meats, sausages, burgers, scotch egg, quiche
Cakes/desserts – semolina, crumbles, pastries, cheesecake, sponges, eclairs, steamed puddings, trifles, biscuits, cakes, scones, pancakes, doughnuts, muffins, ice cream wafers/cones
Milk/dairy products – Yoghurts with added cereals/museli
Fruits & vegetables – Some vegetable pates & spreads, vegetables coated in breadcrumbs or batter/in sauces or soups, some pre-packed vegetables, pie fillings, fruit crumbles
Condiments & sauces – Gravy, sauces, soy sauce, stock cubes, ready meal/casserole mixes, mustard, stuffing, some spice mixes
Misc. – Baking powder, wheat protein isolates, crisps, snacks
Celery
Celery is that well known strong tasting vegetable, commonly thought to contain fewer calories than the energy used to consume it (great for weight loss!!). Made up mostly of water, it's amazing that this unassuming green food stuff is so widely used for its crunchy leafy stalks, root and seeds in food flavourings across the world. Celery is part of the carrot family, plants having flowers in umbels, also including parsley, anise, caraway and dill.
Celery is used in food in various forms including:
Celery sticks

Celery leaves

Celery spice

Celery seeds, which can be used to make celery salt
Cooking celery does not destroy the proteins which cause the allergic reaction. Celery root, commonly eaten as celeriac, or put into drinks, is known to contain more allergen than the stalk, however the seeds contain the highest levels of allergen content. Dried celery or spice is also highly allergenic and likely to cause a reaction if a person is sensitive to raw celery.
A stick of celery or celeriac is easy to recognise, but other forms of the food are less easy to spot. For example, celery salt can be used in a variety of food including soups, sauces, stews, stocks, bouillons and seasonings. It can also be used as a seasoning for tomato juice.
Other possible sources of celery to look out for:
Canned soups

Stock cubes

Salads

Pre-prepared sandwiches

Crisps

Spice mixes

Marmite

Batter for frozen foods

Some cured bacon (celery juice can be used).
Pollen Food Syndrome
The most common type of celery allergy in the UK is caused by a condition known as pollen food syndrome. Pollen food syndrome usually occurs in people who are already allergic to pollens and have hay fever. The proteins in these pollens are similar to those in certain raw fresh fruits and raw vegetables. This similarity means that the person's immune system mistakes the food for pollen. This is what causes the reaction to the food. If the food has been cooked, a reaction is unlikely.
Coming up next month…
We take an in-depth look at Natasha's Law and identify how it is different from the current legislation.
In our 'Spotlight on Allergens' feature we will focus on the allergens Egg and Lupin and the foods that are most likely to contain them.

If you are concerned what Natasha's Law means for you – exactly what information your food labelling should now include along with the costs, logistics and man hours of updating allergen information on packs, then look out for our monthly blog.
Need help with your allergen compliance?
CMC can offer you advice and support on all aspects of your food safety in school.
Contact us today to see how we can help you.
01254 351887
enquiries@cmcschoolfood.co.uk
All resources