When rock and roll met the dinner ladies, the unsung Superheroes of lockdown!
Published

23rd Sep 20

Categories

Blog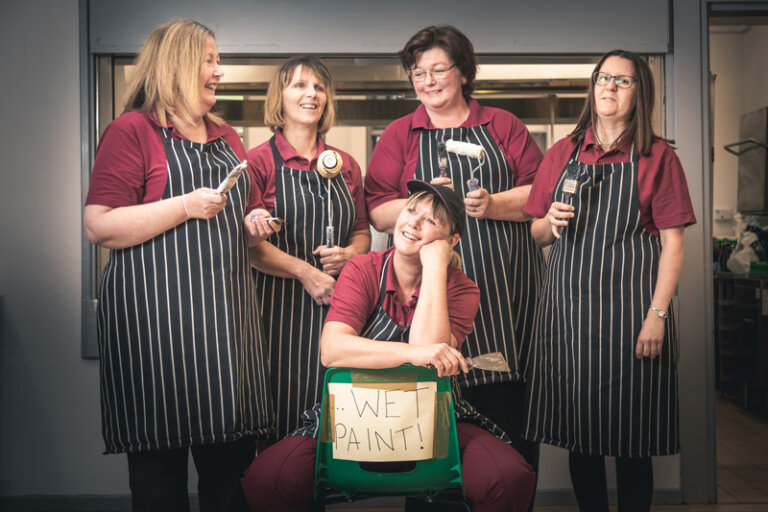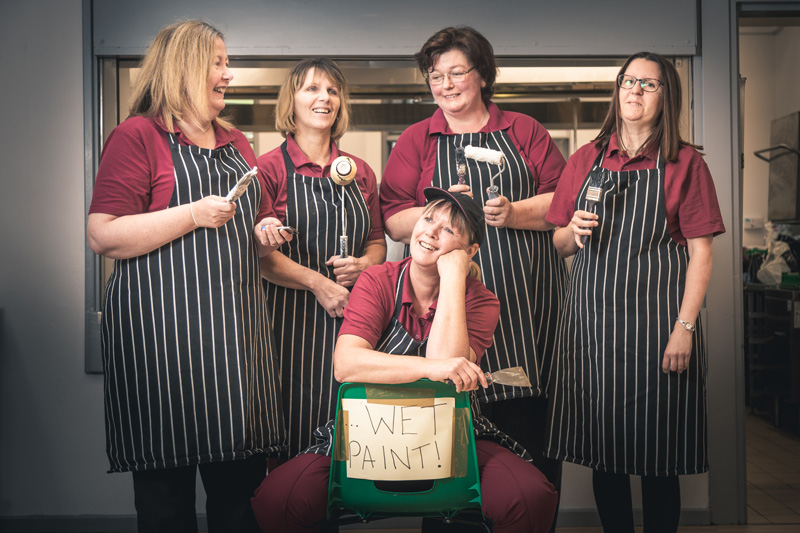 When many schools shut their doors and stayed home during lock down others went above and beyond their usual daily routines. We took rock and roll photographer, Paul Husband, to meet the catering staff who've been unsung heroes during coronavirus.
When the country went into lock down some schools saw it as a call to action, they saw a need in their school community to provide more than just the basics and for CMC they became our unsung heroes of lock down.
With some 8 million children attending school and 15% of these in receipt of free school meals, school catering staff play a vital role in ensuring the health of our future generations. The modern 'dinner lady' is trained in food safety with menus and meals planned and prepared according to the School Food Standards. School catering teams comply daily with regulations to prevent food contamination, so the additional measures imposed following coronavirus were nothing new.
From our portfolio of schools, we chose six client schools who we felt had gone beyond expectations during lock down and engaged the services of photographer, Paul Husband, to document their stories on film. Paul, who usually works with the BBC and the music industry, feels "catering staff are an often underlooked but always vital group in our society as a whole" and for this reason CMC wanted their stories to be told.
St. John's Primary School, Stafford
As well as providing lunch at their own school, at the start of Covid-19, the St. John's Catering Team also stepped in and delivered lunch to neighbouring school St. Paul's, where the catering staff had to self isolate. They continued to support St. Paul's for over 10 weeks and did such a good job that the school leadership at St. Paul's wanted to move away from their caterers and employ the ladies from September!
Freshly baked bread is a staple on the school's menu and the ladies didn't let a national crisis stop them from doing what they do best. Says Carol Seaman, Catering Manager at St. John's "it's really nice to finally have some recognition for what we do."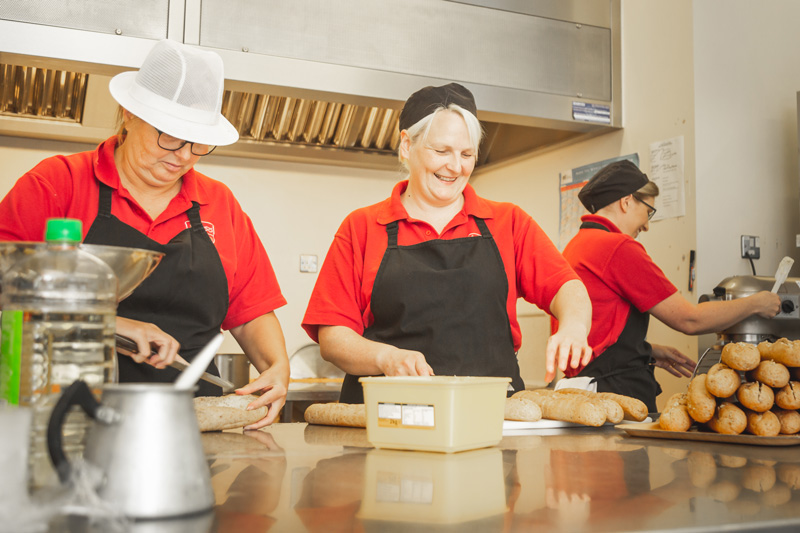 Gorsemore Primary School, Cannock
Catering Manager, Marie Shrimpton, and her Team have become DIY experts for the school during lockdown. When the school decided to stop making hot meals and serve sandwiches instead, Marie and the catering staff rolled up their sleeves and employed themselves in other areas.
The team have created a kitchen garden to help supply them with herbs and fresh produce when creating lunches in anticipation of the school returning to hot meals in the autumn. They've also redecorated the kitchen with a coat of paint and power washed all the equipment that they could take outside. Even Marie's husband, who was on furlough, was brought in as Mr Fix-It, repairing broken tiles on the kitchen walls.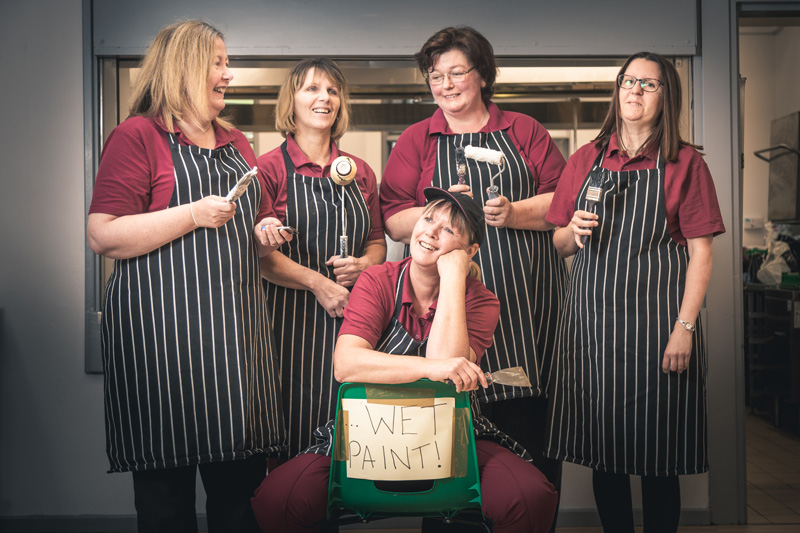 Holly Grove Primary, Burntwood
At Holly Grove Primary School, Head Teacher, Dawn O'Hare, wanted to help out the local church, St. John's, and Burntwood Be A Friend. Once a week, Catering Manager, Terry Heap and her staff, baked cakes and cookies to send out in the food parcels distributed to the local community.
"The response we had was lovely," said Terry. "To know that people were appreciative of the little bit we could do was everything to me."
One morning each week, Terry also did baking activities with the key worker children in school. "We'd bake some treats for them to take home using whatever ingredients we had in the
cupboard. Flapjacks, cupcakes, raspberry buns, shortbread, whatever we could make."
Everything was kept separate so the children handled their own food and at the end of the day they took their treats with them to share with their families."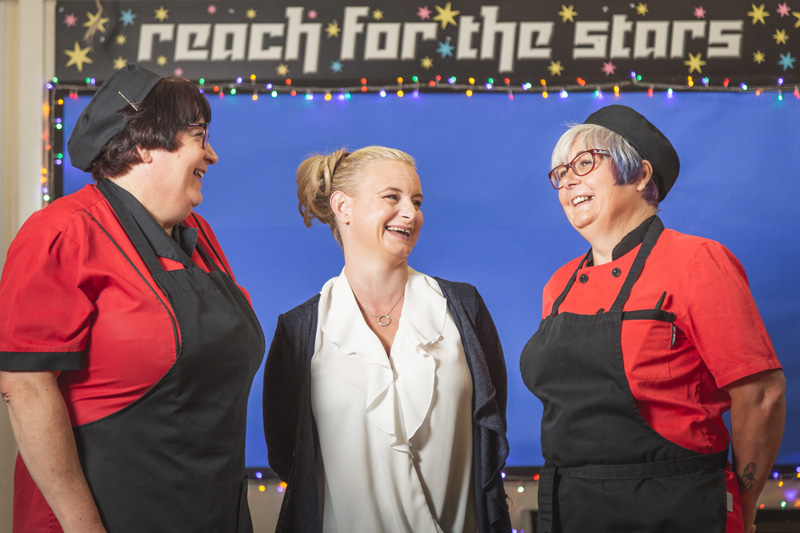 Glenthorne Primary, Walsall & Fulfen Primary, Burntwood
A very British 'Keep calm and carry on' attitude has prevailed at Glenthorne and Fulfen Primaries. Catering Manager Pam, and her team at Glenthorne weren't happy just to provide sandwiches in school but kept the hot meals going, most days providing between 70 to 80 hot lunches to key worker children and school staff.
The same was happening at Fulfen Primary where Kim Hall-Woodcock, the Catering Manager, felt that her children had to have a hot meal, as it would probably be the only one they'd get that day.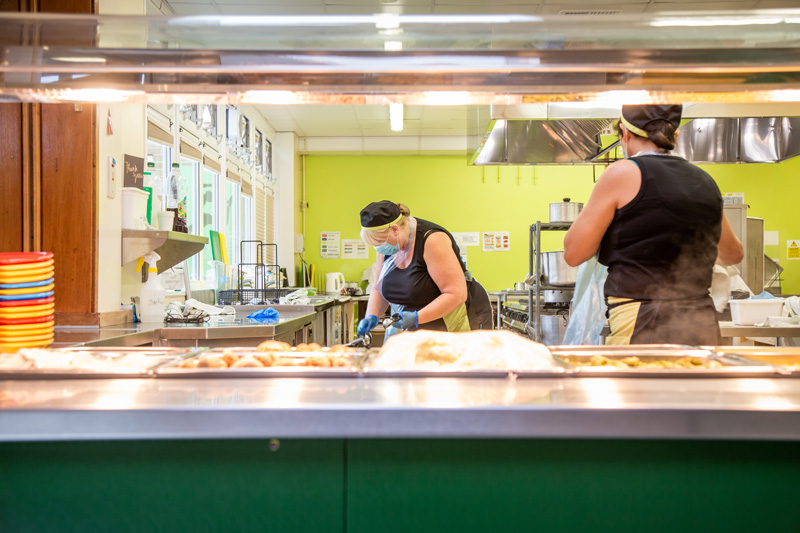 Littleton Community School, Cannock
Head Teacher Lynn Small, is big on community. On the weekend before lock down, when thesupermarkets started getting crazy, Lynn received a message from a parent stating she couldn't feed her family. She had three children but only one was old enough to qualify for free school meals. Lynn went out and bought products and then took them to the families house. Lynn soon realised that there were probably many parents in this situation in her community. About 40% of the school population qualify for free school meals. The school also run a nursery and pre-school, with over 120 children attending daily but for whom the free meal does not count as they are not school age.
The school also offer every child a free breakfast, on average about 150 children a day take either a breakfast or snack for free. This is funded out of any profits the school may make by running the school catering in house.
On the Monday, Lynn came into school and told the staff what had happened; they began donating items straight away, and have continued to do so throughout. The school started sending free school meal bags to the children that qualified, if they had any other child at school they automatically gave them enough food for the whole family. Parents were asked to notify the school of anyone in the community that was in need and the referrals started flowing in.
Realising how big a need there was, the school advertised for donations from family and friends and even the local residents' association. Create church then got in touch and said they may be able to help but their nearest local provider was in Stafford. Lynn set up a meeting and fortunately for Littleton Green, their chair of governors, a local councillor, managed to secure some funding.
Create church also obtained funding and approached the local supermarkets so that they could buy food at a much cheaper rate and any almost out of date stock could be given to them.
And so the Food Bank was born, operating out of a classroom in the school. The catering and school staff have been helping out throughout lockdown with many forfeiting their holidays and will continue to do so over summer.
"It has been very much a team effort," says Lynn. "The staff are continuing to deliver and open up through the summer holidays. Create church have worked tirelessly with the supermarkets to get the best deals they can. At our highest point we were delivering 95 meals and we have never gone below 40 meals."


At CMC we feel lucky to work with these schools and know that by having their catering service in house they can react and adapt quickly to change.
"To see the care and passion they have in continuing to keep kids fed during this lockdown and the lengths they have gone to has been overwhelming. They are a lesson to us all. Also, they were loads of fun to photograph!" says Paul.
Not all superheroes wear capes, some dress in pinnies and caps.
Liz Greene
liz@cmcschoolfood.co.uk
07791282704
All resources