Wholemeal Bread
Published

2nd Mar 21

Categories

Recipe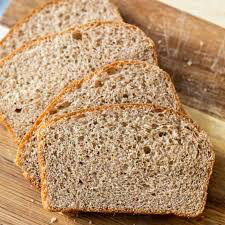 Welcome the children back to school with this tasty bread recipe. Wholemeal bread provides children with more nutrients and less sugars than white bread and is also higher in fibre.
Difficulty: Easy
Serves: 20 Primary / 15 Senior
Ingredients
Wholemeal flour – 1 kg
Warm water – 650 mls
Salt – 1 tsp
Fresh/Dried Yeast – 30 g
Method
Place the flour and salt in a mixer.
Mix the yeast with warm water then pour it into the flour.
Mix them toegether until they form a sticky dough.
Transfer the dough to a floured suface and knead for 10 minutes until it becomes stretchy and smooth.
Place the dough into a bowl and cover with cling film. Leave to stand in a warm place for approximately 1 hour or until the dough has doubled in size.
Return the dough to a floured surface and gently knead once more then shape and place onto a floured tray.
Leave to stand for approximately 20 minutes until the dough has risen again.
Bake in a hot oven – Gas 5 / 190ºc for 25 – 30 minutes.
Allow to cool before serving.
All resources